Do you have tips for shooting when it's super cloudy and gloomy? I struggle because my style looks way better with sun!
You don't *have* to shoot in this light. I know several photographers who reschedule on cloudy/overcast days because their brand and images are very sunny. If you choose to shoot in this light, it takes practice. You are scouting the light differently than on sunny days. Use models to practice on as you find flattering sources of light and find an editing style to make it consistent with your look.
When your subject is moving where do you have your aperture? I am struggling to keep more of the horse in focus.
Generally I shoot at f/2.2, but every situation is different. If you want more of the horse in focus, you may need to be f/5.6+, or only shoot the horse's profile.
Wondering about your editing style… how do you always have "sunny pics"?
For the most part, I only shoot on sunny days. However, I have learned to find great light in any situation and I have a very consistent editing process.
What programs do you use?
Editing: Adobe Photoshop and Lightroom
CRM: 17Hats
Proofing: PixieSet
Blogging: BlogStomp
See more at kmplearn.com/my-bag
Tips on blacking out backgrounds so that the horse and ground stands out but doesn't look choppy?
There are a million ways to edit a black background image, but I use a paint brush at 0% hardness.
I have a free tutorial here. If you want to see this information in action, I have a full course here.
What are your settings on for this photo?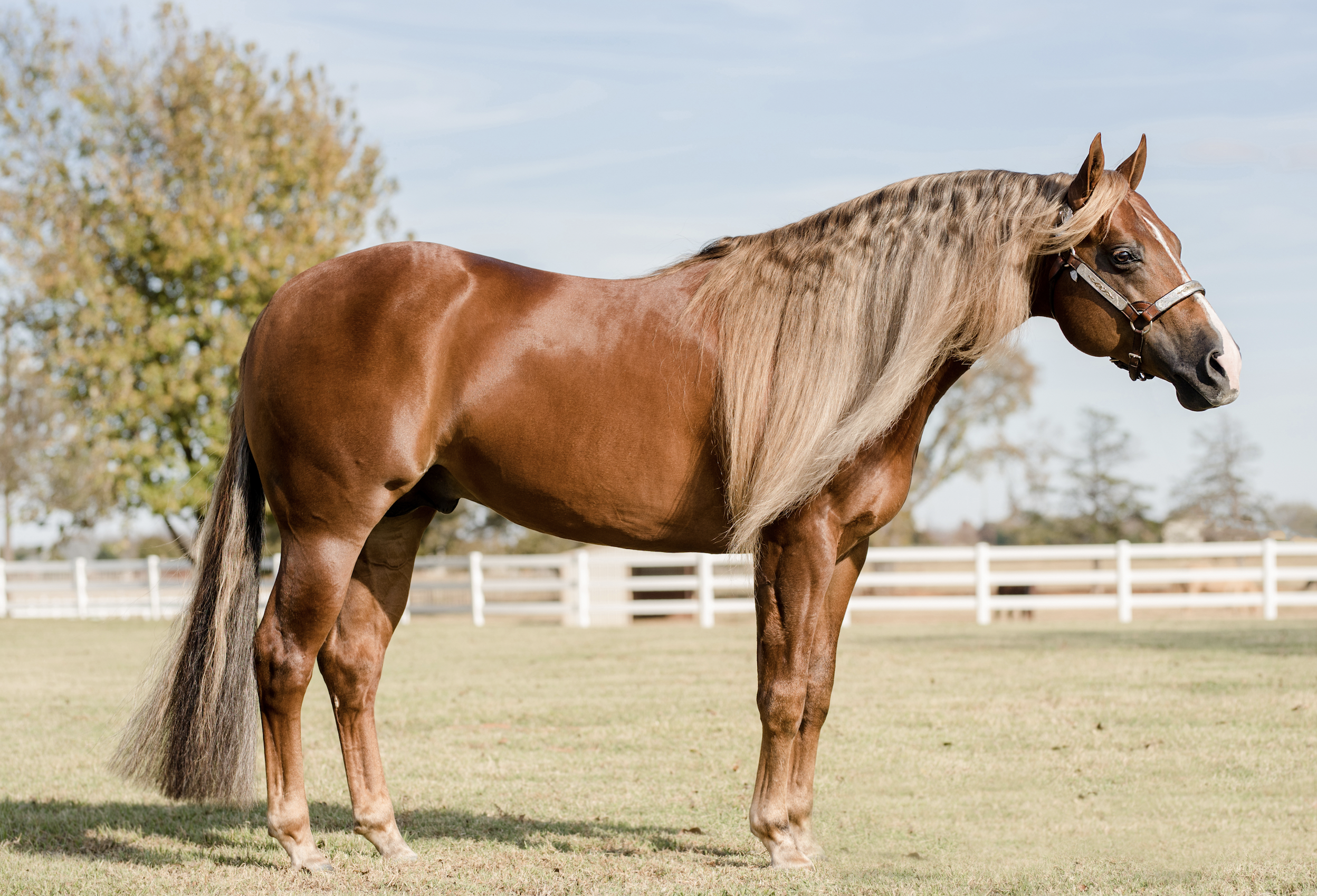 The settings for this image are:
ISO 250
f/3.5
1/2000s
6200K
Are you constantly changing your aperture during your shoots depending on the angle you standing? 
It depends on the type of session! For a horse and rider portrait session, my aperture is usually f/2.2 outside and f/4 for black backgrounds. If there are no horses, I usually shoot at f/1.8. If I am shooting just a horse, my aperture might change depending on what I am trying to accomplish.
Do you use a gray card/expodisc/or handheld meter when shooting digital?
I do not use any of the above. Generally, I have a good idea of what settings the lighting situation calls for so I start there, take an image, and tweak settings as needed.
Regarding your magazine you give to clients, did you study/research colors, makeup, what to wear, etc to write that? Are there any resources you can recommend to those of us looking to write our own?
I have a welcome magazine course here.
I wrote my welcome magazine based on my experience and what works well for my brand and shooting style. If you are looking for resources, Amanda Holloway has a what-to-wear guide for high school seniors and Hobby Horse has a guide for horses. Pinterest also has quite a bit of advice!
I'm struggling with the 50mm 1.4 losing focus when the horse is moving and I'm doing a burst. Wondering if it has to do with the camera slowing down when it's saving images. I sometimes shoot jpeg + raw. Would only raw be better? What speed SD card is best?
It could have to do with your camera's writing speed, too. Personally, I shoot only in RAW and use Sandisk Extreme Pro cards that write at 95mb/s. The Nikon D750 I shoot with has a continuous shooting rate of up to 6.5fps.
For black backgrounds, are you always inside or do you ever use outside shots?
I am always at the end of a barn aisle or indoor arena for black background images. I need 3 complete walls in order to get the directional light I need.
How do you get your pictures to look so bright and airy but where the subject doesn't lose its boldness?
A lot of this is my use of backlighting in-camera, but I also add contrast and drop blacks while editing to maintain boldness, while lifting shadows and increasing exposure to get the image bright.
Do you use a certain set of presets?
I do not use presets while editing color images in Lightroom – not even ones of my own. I free-hand each edit because I feel like every situation is a bit different and I haven't found a preset that I can apply to everything.
I edit my black and whites with a Replichrome preset from Totally Rad.
How do you maintain that soft feeling when you're in direct sunlight, unable to get an shade?
If I am using direct light – which is rare – it is usually because I want a very bold image. However, I still lift the shadows while editing so that it looks consistent with my other work.
Tips on reaching out to people to set up a "model call" to establish yourself and have examples of your work?
It depends where you are in your journey and what the purpose of the model call is! If you are just starting out, I recommend reaching out to friends so that you have a very safe place to fail while you practice. If you are learning a new skill or want to add images to a portfolio, you could reach out to local agencies to book models. If you are using models as marketing tools in your industry, I would recommend sending an email or DM that compliments them and explains the benefit of the session to them. No matter the situation, be very clear about expectations from both sides and make sure you have a contract in place.
Tips on getting your subject comfortable if it's a horse and rider?
Tons of feedback! For the human, give them direct instructions, compliment them often, have them move (walk around or dance) to loosen up, or show them the back of your camera if you need to! For the horse, make sure you are reading their body language to make sure they are in a comfortable environment. Give them a lot of positive reinforcement when they are doing well and make sure to give them breaks.
What are some of the things you do during a shoot to ensure your client is at ease and feeling like a queen?
I always ask permission before touching someone, but every time I pose I make sure everything looks perfect. I fix hair/make up, shirt straps, wrinkles in clothes, etc. Usually a major insecurity in front of a camera is wondering if everything looks OK. By fixing items myself, it lets people know that I am noticing small details and making sure everything is perfect. I follow the fix with a compliment. If I smooth a wrinkle, I will likely compliment how cute the garment is. If I fix I curl, I will compliment the hair style.
What is your session flow like regarding outfits and the horse being saddled/unsaddled? Do you do all the unsaddled shots at the beginning of the session? 
This is a great question! It is SO hard. I usually have to decide this with the client. In a perfect world, I would start with all of the saddled shots and any show clothes. However, hair styles can be seriously compromised under a cowboy hat so some people want to end with these items. Also, in Texas, sweat is a concern. Some days starting with a saddle will result in sweat marks on the horse's back, so we have to save it for the end.
Every session is different and it all depends on the conditions and goals of my client!
What camera do you use?
I shoot with a Nikon D750 and Hasselblad H1. See more of what is in my bag here.
What is your typical session flow? Do you have a few set poses you always go to first?
Typically, I start with a head shot. If anyone (horse or rider) is tense, I might send them walking to loosen things up!
What is your work flow for after the session (to be as time efficient as possible). Do you try and keep business hours so that you aren't doing work at all hours of the day or is it just bits here and there? 
When I was working fulltime, I would edit on weekend mornings and shoot on weekend evenings. During busy seasons, I would edit in the evenings when I got home from work. Since taking my photography business fulltime, I have stuck to more traditional business hours. I edit weekday mornings and shoot in the evenings.
Now that I have a newborn, I have a feeling my "business hours" will be based solely around nap times 🙂
Do you sell a black background (only) session?
I do not advertise a black background session, but I would be willing to do one if that is what my client needed!
Since you export your images at 10 inches on the short side (300 dpi), how large of a print does that allow your client to print?
Technically, 10″ at the short side would be the print size. However, I haven't had restrictions with printing sizes by using that export setting.
 Ive been doing some "model call" work to build my portfolio. Any tips on this would be helpful. Also, do you limit what you give them? I was giving them all post production digital copies but it felt crazy. Now I'm only giving them 5.
The terms you set with your models is completely up to you! Just make sure there is a contract in place and very clear expectations from both side. I give my models all of the finished high resolution images, but I also don't use them to build my portrait portfolio – I use them to add images to my stock portfolio to sell.
What does your editing workflow look like? Do you use Adobe LR or PS? If so, what do you use each one for? Do you use presets?
After I cull the images, I bring them into Lightroom for color correction, cropping, and exposure adjustments. I have purchased presets in the past but I do not use presets because I haven't found anything that works universally for me. I hand edit each image! Next, I export from Lightroom and bring each image into PhotoShop to touch up blemishes, distractions in the background, etc.
Do you have any concerns about how your digital images will be cropped and printed by clients? It concerns me, but I don't know how to not let it. I worry they'll display the pictures with missing body parts that have been cropped. 
I deliver high-resolution images with printing rights – so they can print on their own. However, most of my clients choose to print through me and I make sure that every image is cropped correctly before print!